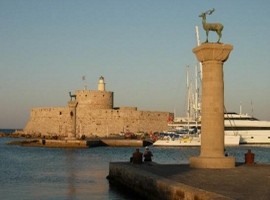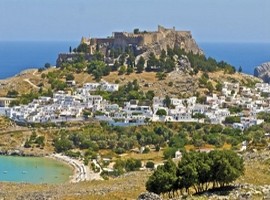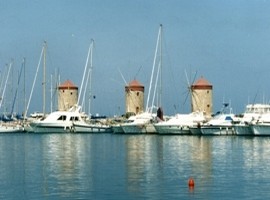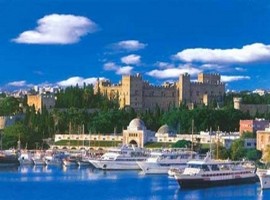 Rhodes with no doubt is the largest island of all Dodecanese. Historically, Rhodes was famous worldwide for the Colossus of Rhodes, one of the Seven Wonders of the Ancient World. The medieval Old Town of the City of Rhodes has been declared a World Heritage Site. Today, it is one of the most popular tourist destinations in Europe. Colossus of Rhodes was builded to commemorate the victory of the Rhodians against the Antagonids and was stooding in the harbor entrance, until a strong earthquake hit Rhodes with result the Colossus to be destroyed falling down. The statue was considered as one of the Seven Wonders of the Ancient World. Nobody could rebuild this and little by little Arabs stole all the pieces and sold it as scrap metal in their countries. In the Rhodes island market walking the old Town you can find a lot of beautiful stores with all kinds of jewelry and a variety of quality leather clothes. You can also find the delicious local honey of Rhodes. Moreover you will find many souvenir shops, many of which are hand-made. Furthermore, there are many monasteries like Paramythia monastery, Tsambika, Skiadi, Ispeni, Thari and many churches like Agios Nikolaos, Agios Nectarios, Katholiki church, Filerimos, Agios soulas.
If you are an athletic person, Rhodes is an excellent choice. There is a big variety of sports for all kind of ages. Some of them are windsurfing, swimming, trekking, jet skiing, water skiing, tennis, golf, extreme sports, horse riding…  Traditional sites of Rhodes are Lindos, Old town, New town, Phaliraki, Kallithea, Ixia, Prasonisi, Lardos. You have to visit these sites because of their beautiful beaches. Gennady Beach is famous for its simplicity. It has more natural environment, and is less crowded. Also, it enhances fun at nights, where you can have beach parties and enjoy dancing till morning. Ixia Beach provides you with a blend of natural and modern pleasures. Kolimbia Beach is a modern well-organized place, while Lindos Beach is 50 km long and constitutes few small beaches. It is perfect to try a splashing swim, enjoy traditional fish or take snapshots on its scenic rocks. Tsambika Beach is a perfect place to visit along your family. It offers everything to make your Rhodes Holidays a family fun. You can shop, eat, play and swim with your family and make your time special here. Almost each of Rhodes' vicinity carries its own village. Most of the villages are named on the area they are in.
You will be impressed by the  sunny beaches, the green fields and of course the archaeological places. If you want to get the most beautiful sightseeing, Rhodes villages is just great. Ialyssos  is located 15km far away from the airport. This city is famous for the combination of an ancient and modern sense! The place is skirting of beautiful sandy beaches where you can enjoy your swim and stunning view of sea! If you are starving many of eximious restaurants will be waiting for you. The most important site there is the Philerimos Hill along with so many archeological "treasures" The Island of Symi seems like a heaven because of his impalpable harbors.  Finally, another place where you can visit is the Palace of Grandmaster. This place was destroyed by an accident in 1856 and then was restructured in 1900. Nowadays built -in with many towers and rooms, It's worth a go for a walk there.