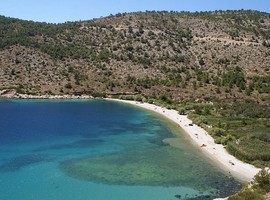 Sailing holidays in Greece provide vacationers ample opportunities to unveil the hidden splendor and grandeur of Greek Islands and Greece. Vacationers can enjoy the luxury sailing vacation on warm turquoise waters of Greek Islands along with exploring the hidden gems on the remote islands of Greece.
Sunbathe on the untouched and magnificent sandy beaches and drop anchor in some of the scheduled bays will truly make your sailing vacation remarkable and memorable. But, these places can only by explored through boats. Just imagine, driving off the yacht to the crystal clear waters of the Greek Islands and simply enjoying afternoon meal with your family and friends on the deck. One can also enjoy relaxing and relishing the midday heat with a drink of your choice and enjoying the gentle waves that are splashing with each other and against the keel. It would be a wonderful experience sailing on the crystal clear water of Greece.
There are many people those who have a misconception that sailing holidays in Greece will hamper their financial condition, but the reality is not the same. The overall cost of sailing holidays is same as normal holidays abroad, it will not over the budget for sure. However, the cost of sailing holiday depends on the yacht you select for your vacation. Remember, the more luxury yacht you will opt for, more money you need to spend in your sailing holiday. The cost of sailing holidays remain somewhere near to general holidays because when you will sum up the cost of dining out, car rental, airline tickets, ferry, hotel accommodation, then you will observe that cost of sailing holiday is just same as general holidays. Most importantly, if you are deciding to take your entire family along with you, then yacht charter would be the ultimate selection for you, both in terms of luxury and relaxation.
Another benefit to charter a yacht in Greece during your sailing holiday is that if you decide to do hopping on the Greek Islands, then you will be able to explore the islands at your own rapid speed. In such situation, you don't have to worry about not finding flights, missing ferry or finding hotels for accommodation. You will have complete control and you can do hopping where you desire and when you desire.
There are various types of charter yacht available for sailing holidays in Greece, so depending upon your needs and requirements you may make your selection. If you are looking for more comfort, luxury, privacy and space along with some additional goodies like hostess, chef, fishing gears, scuba gears and jet skis, then it is better to opt for motor yacht during your sailing holidays.
Besides, sailing yacht offers you the real feeling of sailing holidays in Greece. This is considered as the perfect choice for adventure seekers who want to explore the hidden beauty of Greek islands and enjoy the pleasures of sailing. Though they are limited in space, slower and have few amenities, but they will enable you to explore the islands economically.
You should seek help from a yacht charter company who will plan your sailing holidays in Greece perfectly. You need to select your own custom itinerary and the correct yacht for the sailing vacation.
The fantastic climatic condition and superb sailing experience entice the adventure seekers round the year. There are several beautiful islands that can only be explored through sailing holidays in Greece. Adventure seekers looking for some wonderful outdoor activities and water sports can be enjoyed here during their sailing vacations. The gentle waters bordering the Greek Islands are perfect for sailing vacations in Greece. No matter whether you are embarking for first sailing holiday experience or you are well-versed in this sport, Greece has many things to offer vacationers of all age groups.
The long sandy beaches and coastline of Greece can be explored either by crewed charter boats or by bareboat; the choice always remains on your hands. But, it is for sure that your escape the crowds virtually after opting for sailing holidays in Greece. You may simply opt for one of several private Greek anchorages and explore the immortal islands of magic and myth.
After deciding for a sailing holiday in Greece, the first thing that you need to do is to locate a reliable and reputed agency that will cater your specific demands and needs. There are several charter yacht companies out there in Greece offering sailing holiday packages according to the specific needs and requirements of the vacationers. The reputed agency will always offer you the right package for sailing holidays in Greece. The reputed agencies will always ask your needs first and offer you sailing holiday package accordingly. The vacationers have wide variety option to select from. They may either opt for bareboat sailing holiday package where the vacationer will be the captain of their own adventure or else they may select for charter sailing yacht. Have you ever seen any holiday package more liberating than this?
If you are novice sailor and desire to enjoy the superb adventure of sailing holidays in Greece, then these agencies will offer you flexible holiday arrangements where they will have professional skipper for guidance along with a cook to look after everything in the gallery and a group of well qualified catering front.
The agencies will also prepare a set of route for the vacationers so as to make their exploration easier and simpler. With the help of the suggestions and decided route any vacationer can enjoy the Greek Islands and warm turquoise waters to the fullest during their sailing vacation in Greece. However, if you are a freestyle sailor and want to schedule your sailing vacation by your own, then you will be allowed to do the same by the agencies. So, why are you waiting for, simply schedule your sailing holiday in Greece to enjoy the Greek Islands of Southern Europe.